Vermont Credit Union Historical Statistics (2006 – 2015)
It's likely that most consumers are generally aware that there has been tremendous consolidation in the U.S. financial services marketplace during the past decade and beyond.  According to data from the Federal Deposit Insurance Corporation (FDIC), the number of commercial banks and savings institutions dropped from 8,680 in 2006 to 6,182 by the end of 2015, which calculates to an average loss through mergers and acquisitions of approximately 250 for-profit financial institutions each year.
Vermont Credit Union Cumulative Financial Data – 2015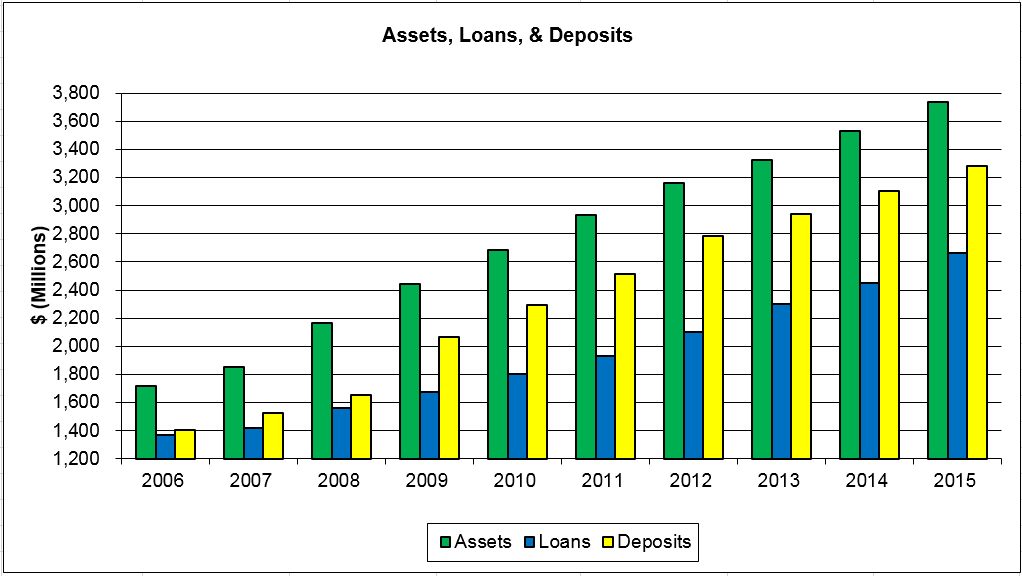 Of course, credit unions have also experienced consolidation.  Data from the National Credit Union Administration (NCUA), Credit Union National Association (CUNA), and Filene Research Institute show that the number of credit unions has dropped from 7,781 in 2006 to 6,146 at the end of 2015, or an average loss of about 164 each year.   Vermont mirrors this trend, as there were 30 credit unions doing business in the state in 2006 vs. 21 in 2015.
But here's one of the most staggering statistical differences between for-profit banks and cooperative, not-for-profit credit unions.  Data from those same sources show that in 1992, the largest 100 banking institutions had a market share (assets under control) of 41.1% while all other smaller banking institutions had 11% more (53.3%).  By mid-year 2015, those figures changed to 74.8% market share for the top 100 banks vs. 18.2% for all of the smaller ones combined.  In fact, according to an April 2015 report by CNBC, the top five largest U.S. commercial banks controlled just under $7 trillion in total assets at the end of 2014, or about 45% of the entire financial services industry.  The other 55 percent of the industry's assets are divided among more than 6,000 other institutions.
Membership in Vermont Credit Unions – 2006 to 2015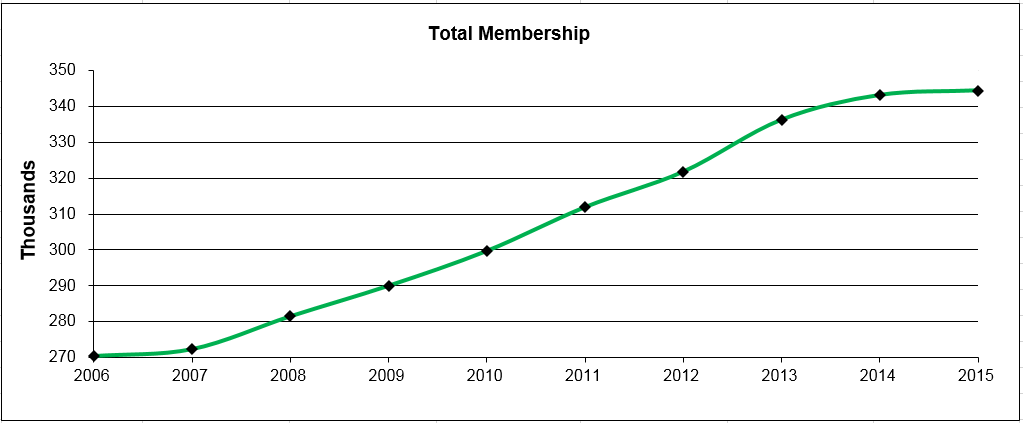 Has consolidating into larger credit unions had the same kind of impact on smaller credit unions?  Not even remotely.  Credit union national market share in 1992 was 5.6% compared to 7.0% at mid-year 2015 and, as noted above, our industry as a whole is losing nearly 90 fewer institutions annually than banks.  A large percentage of those mergers can easily be attributed to increased and excessive regulatory burdens with which smaller institutions—both banks and credit unions—simply cannot cope.  Those regulations by and large resulted from the bailout of those same "too big to fail banks" that caused the financial crisis and the Great Recession of 2007-2009.
Surely with such little market share growth for nearly 25 years, credit unions must annually be losing members by the thousands?  Again, not even close.  In fact, there are more credit union members in the United States now—in excess of 103 million—than at any other time in our country's history.
Statistical Growth Percentages at Vermont Credit Unions – 2006 to 2015
Every day, more consumers are becoming aware of the countless benefits offered by membership in their local, not-for profit credit union.  Like all cooperatives, each member benefits in proportion to the amount of business they do with the credit union and collectively, those numbers really add up.  In 2015 alone, Vermont's 21 credit unions delivered $23 million in benefits to their members (source – CUNA Economics & Statistics Dept.)
If you're a Vermont credit union member, you know all about the benefits you receive from your locally-owned, and locally-controlled, cooperative financial institution.  If you're not yet a member, that voice you hear is your share of those $23 million in benefits asking what you're waiting for.