Vermont Credit Union Historical Statistics (2008 – 2017)
It's likely that most consumers are generally aware that there has been tremendous consolidation in the U.S. financial services marketplace during the past decade and beyond.  According to data from the Federal Deposit Insurance Corporation (FDIC), the number of commercial banks and savings institutions dropped from 8,680 in 2006 to 5,670 by the end of 2017, which calculates to an average loss through mergers and acquisitions of approximately 274 for-profit financial institutions EVERY YEAR for more than a decade.
Vermont Credit Union Cumulative Financial Data – 2017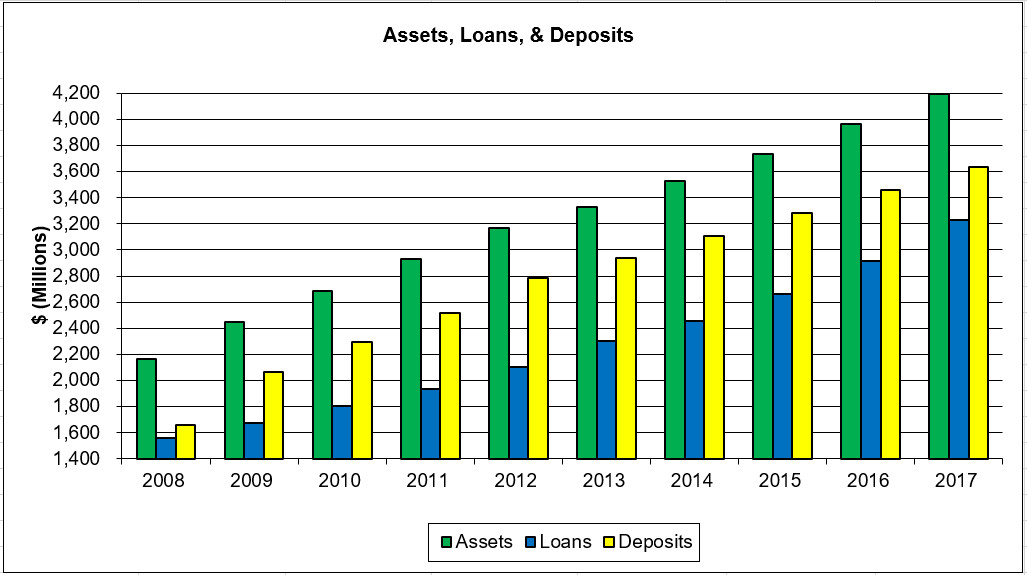 Of course, credit unions have also experienced consolidation.  Data from the National Credit Union Administration (NCUA), Credit Union National Association (CUNA), and Filene Research Institute show that the number of credit unions has dropped from 7,781 in 2006 to 5,684 at the end of 2017, or an average loss of about 191 every year.   Vermont mirrors this trend, as there were 30 credit unions doing business in the state in 2006 vs. 19 in 2017.
But here's one of the most staggering statistical differences between for-profit banks and cooperative, not-for-profit credit unions.  According to Bankrate.com, the top 15 banks in the U.S. now control $13.2 trillion in assets – with HSBC being the "smallest" of that group at a mere $201.3 billion.  As Bankrate points out, $201.3 billion "converted into $100 bills laid end to end would reach the moon (with several thousand miles left over to check out the view)."
Membership in Vermont Credit Unions – 2008 to 2017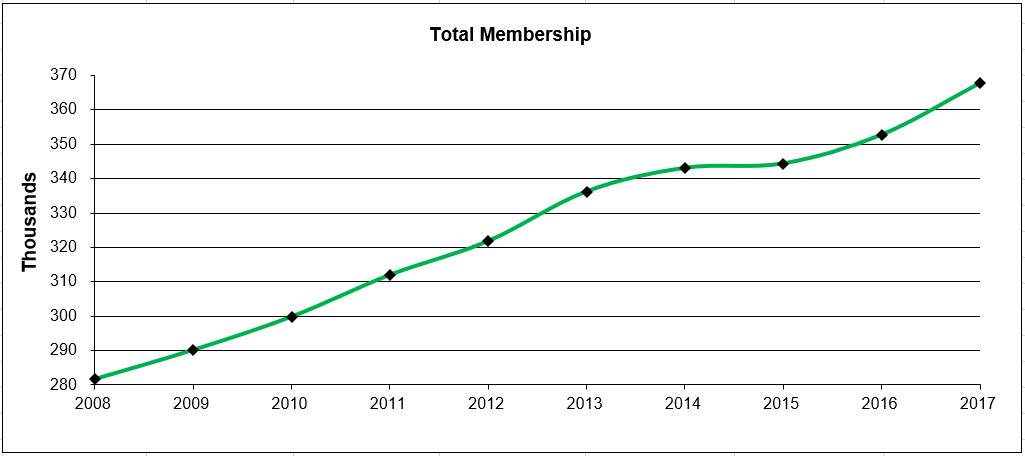 Has consolidating into larger credit unions had the same kind of impact on smaller credit unions?  Not even remotely.  As shown on our Statewide Financial Data page, at the end of 2017, Vermont's credit unions ranged in asset size from $1.2 billion to a little more than $530,000 — with plenty of stops in between.  Credit unions have served Vermont consumers since the first one — Vermont VA Federal — was chartered in 1939.  And it's still going strong, serving its more than 2,300 members almost 80 years later.
Driven largely by a distrust of the "too big to fail" mega banks which caused The Great Recession a decade ago, consumers who want something different are increasingly turning to credit unions for all kinds of financial services — as noted in a June 2017 report by consumer credit reporting company Experian:
"Credit union auto originations increased from 1.54M new accounts in Q1 2015 to 1.93M in Q1 2017 – a 25% increase. And not only did originations rise dramatically in this space, but credit unions topped banks, captives and other finance sources. Credit union auto market share rose 5% between Q1 2015 and Q1 2017, while bank market share declined by 4%.
Credit unions also saw growth in the personal loan arena, with market share rising 2% between Q1 2015 and Q1 2017. Still, with the rise of online lenders, that sector saw a 7% increase during the same period. Banks declined by 5%.
While most bankcards are opened with banks, credit unions did experience an 18% increase in bankcard originations from Q1 2015 to Q1 2017. Market share rose 1% between Q1 2015 and Q1 2017 for credit unions in the bankcard space. Banks reign with market share at 96%.
Credit union mortgage market share rose 7% between Q1 2015 and Q1 2017. Banks declined by 4%."
There are more credit union members in the United States now — in excess of 111 million — than at any other time in history.  This growth is especially strong in Vermont as more than 15,000 of your friends and neighbors became new credit union members in 2017 alone!  This one-year 4.6% growth increase brings the total number of credit union members in Vermont to more than 367,000 or nearly 60% of the state's population.  Vermont's credit unions are strong and growing because Vermont consumers know that cooperative, member-owned, not-for-profit credit unions are a SMARTER CHOICE than for-profit financial institutions.
Statistical Growth Percentages at Vermont Credit Unions – 2008 to 2017
Every day, more consumers are becoming aware of the countless benefits offered by membership in their local, not-for profit credit union.  Like all cooperatives, each member benefits in proportion to the amount of business they do with the credit union and collectively, those numbers really add up.  In 2017 alone, Vermont's 19 credit unions delivered more than $44 million in benefits to their members (Source: CUNA Economics & Statistics Department)
Loan Product Interest Rate Comparison, Vermont Financial Institutions – 2017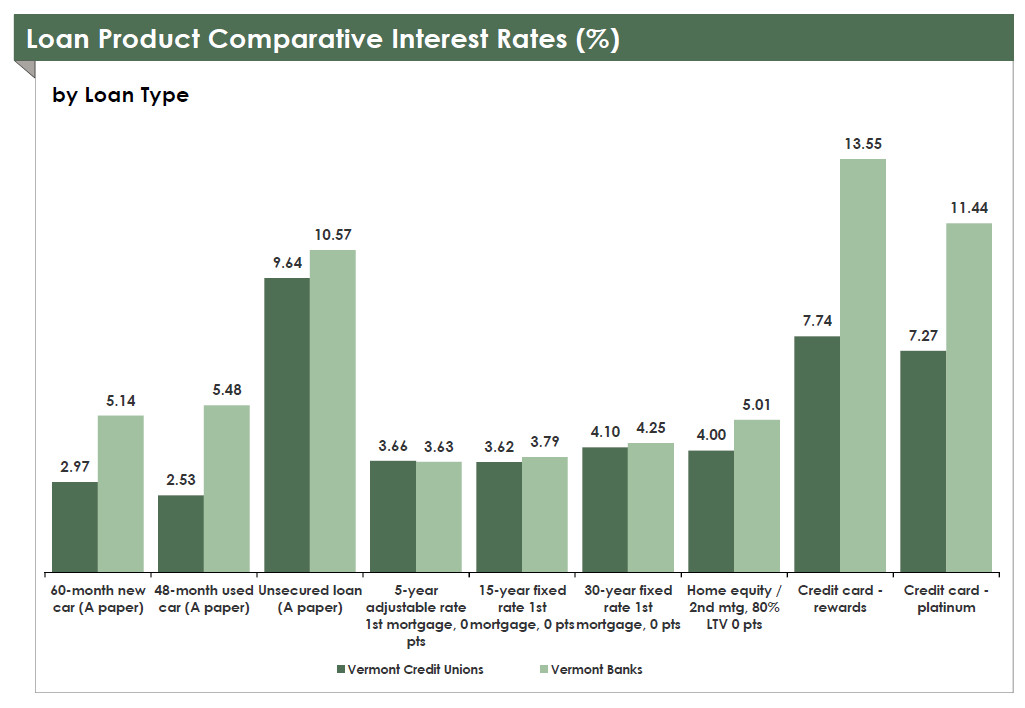 (Source: CUNA Economics & Statistics Department)
If you're a Vermont credit union member, you know all about the benefits you receive from your locally-owned, and locally-controlled, cooperative financial institution.  If you're not yet a member, that voice you hear is your share of those $44 million in benefits asking what you're waiting for.