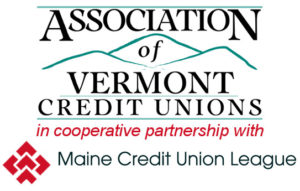 AVCU congratulates Sara Hearne (Vermont FCU) and Linda Smith (Central Vermont Medical Center, Inc. CU) on their successful completion of Part One of the Certified Teller Specialist Program.  Well done!
In cooperative partnership with Maine Credit Union League, AVCU offers a three-part, interactive webinar training program designed specifically to help front-line credit union employees master the technical aspects of the teller position, learn focused service and sales techniques, and improve their understanding of extended topics like shared branching, credit bureau reports, budgeting, and more.  This comprehensive and unique training is offered twice annually.
No matter where Teller Specialist trainees are located, the program allows them to complete their certification from the comfort of their own workspace and at their own pace.  Each part is broken down into a series of one-hour interactive webinars which, at the trainee's option, can also be accessed as a recorded archive at a later date if live participation isn't possible on any given day:
Part One:

  Five webinars from 10:00 – 11:00 AM on Mondays covering …

cash drawers and money handling;
check handling and check fraud;
teller transactions and Regulation CC;
teller responsibilities for BSA & OFAC; and
confidentiality, security of member information, and robbery preparedness.
Part Two:

  Five webinars from 10:00 – 11:00 AM on Mondays covering …

delivering excellent service, importance of member loyalty, stigma of the word "sales", and understanding the messages you convey;
communication styles, professionalism, appearing confident; and managing your professional image;
dealing with complaints, conflict resolution styles, diffusing unhappy members, and emotional intelligence;
effective listening, asking the right questions, knowing your products, and understanding demographics; and
conveying features and benefits of a product or service, cross-selling, overcoming objections, and the importance of member follow-up.
Part Three:

  Two webinars from 10:00 – 11:00 AM on Mondays covering …

shared branching and Individual Retirement Account basics; and
credit bureau reports, budgeting tactics, and ways to save money.
Every Teller Specialist trainee will receive AVCU's Certificate of Completion upon finishing Part One or Part Two of the program.  AVCU's Certified Teller Specialist Graduation Certificate and a special gift will be delivered by AVCU staff to each newly certified Teller Specialist at his or her credit union upon completion of all three program parts.  Each program graduate will also be recognized in Newslines Express and on this page.
Our Trainer:
Jane Thomas
Jane is the Director of Education at the Maine Credit Union League where she works with credit union leaders, managers, supervisors, and front-line staff, enhancing their skills to help them better serve members.  With more than 14 years of experience at the Maine League developing and delivering engaging, relevant, and specialized training to credit union employees, Jane brings equal parts of professionalism, coaching, and industry expertise to every presentation.
Her training programs are repeatedly rated "very good" by attendees, consistently exceeding their expectations whether at in-person or web-based sessions.  Jane connects easily with people, is enthusiastic, and a great motivator.  She holds an A. A. Degree in Business from the University of Southern Maine, as well as numerous training and presentation certifications.
---
Registration has ended for Parts One & Two of the series — they will be offered again in early 2018.

Part Three ($289 per registrant) of the Certified Teller Specialist Webinar series will begin in October and includes:
October 23, 2017, 10:00 to 11:00 – Module One: Shared Branching; IRA Basics
November 13, 2017, 10:00 to 11:00 – Module Two: Credit Bureau Report; Budgeting Tactics; Ways to Save Money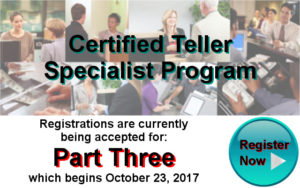 Advance registration for the two Part Three webinars via AVCU's Eventbrite page is required (click button at right) and will remain available until 5:00 PM on Thursday, October 19.  The schedule for the start of the next Part One webinar series in early 2018 will be announced here and in Newslines Express when it becomes available.
AVCU's Registration Policy:  For continuity and training effectiveness among all Certified Teller Specialist trainees,  Part Three is offered solely as a complete package — webinars are not available individually.  Registrations submitted via Eventbrite may be cancelled (by email only please) prior to the deadline above — all registrations in effect at the deadline will be fully invoiced shortly thereafter.  AVCU cannot and will not issue credit or reimbursement if a trainee is, for any reason, unable to complete all webinars in Part One, Part Two, and/or Part Three.
Click the "Register Now" button to register via Eventbrite.  Because AVCU invoices our member credit unions directly for education and special events, Eventbrite displays this event as "Free" and online payment is not accepted.  We will invoice your credit union via your preferred method (email or USPS mail) selected at registration.
Questions about the Certified Teller Specialist Program may be addressed to AVCU Director of Information Services John Cote.