Just Announced!

– The 2017 Vermont CU Golf Challenge will be held on Tuesday, June 13 at Country Club of Vermont.  Check back in March for full details and registration procedures.

Pictured above, left to right:  The new 2016 Vermont Credit Union Golf Challenge 1st Low Gross champions from A. M. Peisch & Company, LLP with their trophies: Todd Burgess, Rich Lyon, Glen Bolster, and Norm Ladabouche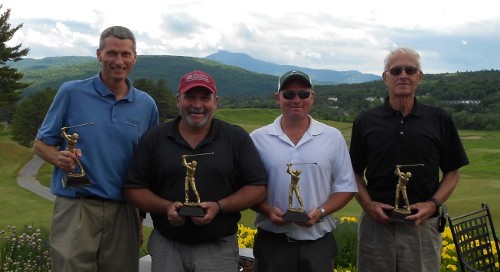 The 2016 Vermont Credit Union Golf Challenge benefiting the Vermont Foodbank took place at Country Club of Vermont on Wednesday, June 22, 2016.  The team from A. M. Peisch & Company, LLP (pictured at the top of the page) earned 1st Low Gross with an impressive 14 under par 58.
With a score of 51, 1st Low Net honors went to the team from Members Advantage Community CU (pictured, left to right – Sean Gammon, Dean Stearns, Adam Stearns, & Rod Titus). For more pictures from the 2016 VCUGC, visit AVCU's Flickr page.
Individual cash prizes were won by Ladabouche for the Putting Contest, and Jeff Morse (River Valley CU) and Matt Levandowski (Heritage Family CU) who each won a Closest to the Pin Contest. All three donated their cash prizes back to the tournament's benefactor and AVCU gratefully thanks each winner for their generosity.

The real winner on the day however was Vermont Foodbank, which received from AVCU all of the net proceeds from the tournament, as well as the funds we raised with our Cash Booth at this past May's Annual Meeting. In lieu of doing a giveaway at their 2016 Annual Meeting, Tricorp FCU generously presented AVCU with a check for $500 made out to Vermont Foodbank to be donated on their behalf.  All together, the Vermont Foodbank received more than $4,500 from AVCU on behalf of Vermont's credit unions and the tournament sponsors of the 2016 Vermont CU Golf Challenge.
Click here for pictures from AVCU's check presentation and guided tour of the Vermont Foodbank