Newslines Express is AVCU's weekly email newsletter summary of credit union and financial industry news from Vermont and across the nation. Click here to subscribe and receive the latest issue in your inbox every Friday at noon.
Headlines for Friday, May 24, 2019
---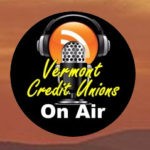 Vermont Credit Unions On Air is AVCU's podcast channel on SoundCloud. Click the logo or link for our entire library archive or listen to our three most recent podcasts below.
April 26, 2019 – Vermont State Treasurer Beth Pearce and VSECU Senior VP of Marketing & Business Development Yvonne Garand talk about the state of financial literacy among Vermonters, offer insights on the path to financial well-being, and present free resources available for everyone to use. Association of Vermont Credit Unions President Joe Bergeron moderates.
April 5, 2019 – Association President Joe Bergeron and Scott Wilson, CEO of SeaComm FCU discuss SeaComm's expansion across upstate New York and into Vermont, philosophies about service to members, cooperation among credit unions, and more.
February 8, 2019 – Association of Vermont Credit Unions board member Jim St. Peter chats with AVCU President Joe Bergeron about his career in financial services and credit unions, challenges and views on the future of financial services.