Newslines Express is AVCU's weekly email newsletter summary of credit union and financial industry news from Vermont and across the nation.  Click here to subscribe and receive the latest issue in your inbox every Friday at noon.
Headlines for Friday, November 8, 2019
---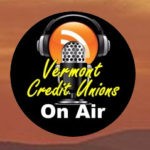 Vermont Credit Unions On Air is AVCU's podcast channel on SoundCloud.  Click the logo or link for our entire library archive or listen to our three most recent podcasts below.
November 8, 2019 – Most everyone knows credit unions can be state or federal chartered. But did you know the regulators of state chartered credit unions have their own association and their own accreditation program? Tom Candon, long-time Vermont Deputy Commissioner of the Department of Financial Regulation, and former chair of the National Association of State Credit Union Supervisors (NASCUS), highlights all of that and much more in a conversation with AVCU President Joe Bergeron.
November 1, 2019 – In the final episode of our Co-Op Month celebration, Association President Joe Bergeron talks food cooperatives with Erbin Crowell, Executive Director of the Neighboring Food Co-op Association based in Shelburne Falls, Massachusetts where he's the primary advocate for the food co-ops in the densely populated New England and northeast.
October 11, 2019 – U.S. consumers, especially in the northeast, are likely familiar with the Cabot brand in grocery stores or by visiting their stores in Waterbury and Quechee, or their Visitors Center in Cabot. But they might not be as familiar with Cabot's history as a cooperative, it's relationship to Agri-Mark, and how it's structured differently than other dairy producers. Association President Joe Bergeron recently sat down with Marketing SVP Roberta MacDonald to discuss dairy cooperatives and all things Cabot Creamery.