Newslines Express is AVCU's weekly email newsletter summary of credit union and financial industry news from Vermont and across the nation.  Click here to subscribe and receive the latest issue in your inbox every Friday at noon.
Headlines for Friday, September 25, 2020

---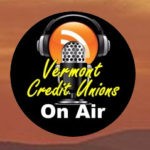 Vermont Credit Unions On Air is AVCU's podcast channel on SoundCloud.  Our three most recent podcasts can be streamed below. Click the above link or the logo for our entire podcast library, or search for "Vermont Credit Unions on Air" in your favorite podcast player.
March 6, 2020 – At the mid-point of the 2020 Vermont legislative session, AVCU's primary advocacy players Adam Necrason and Jessica Oski check in with what's transpired to date, what to expect in the second half, and the impact of state and national elections. The conversation is moderated by Association President Joe Bergeron. This podcast is also available as a video on Vermont Credit Union's YouTube Channel.
November 22, 2019 – Shawn Hayes, chief executive officer of Ticonderoga Federal Credit Union in New York state, chats with AVCU President Joe Bergeron about his career in credit unions, expansion of Ticonderoga into the Vermont marketplace, and the modern day challenges of meeting member financial needs. Ticonderoga FCU is AVCU's newest Associate Member credit union.
November 8, 2019 – Most everyone knows credit unions can be state or federal chartered. But did you know the regulators of state chartered credit unions have their own association and their own accreditation program? Tom Candon, long-time Vermont Deputy Commissioner of the Department of Financial Regulation, and former chair of the National Association of State Credit Union Supervisors (NASCUS), highlights all of that and much more in a conversation with AVCU President Joe Bergeron.