2022 VCUGC Results
Under sunny blue skies on Wednesday June 29th, 64 golfers representing Vermont credit unions and AVCU's corporate sponsor business partners gathered at Stowe Country Club to create the largest field of participants in the history of the Vermont Credit Union Golf Challenge (VCUGC). Temperatures in the upper 70's and low humidity made for a nearly perfect day to raise much needed funds for our tournament benefactor Vermont Foodbank.
Our generous friends representing Ace Sponsor Tricorp FCU got the fundraising off to a terrific start by presenting AVCU with a $1,000 donation for the Foodbank. At morning check-in, the record number of golfers representing Vermont credit unions and our corporate sponsors continued the Foodbank fundraising by donating $360 in raffle ticket sales for a chance to win gift cards for four free webinars supplied by AVCU's education partner CU Webinar Network.
Out on the course, Lisa Rees (Vermont FCU) and Tim Carpenter (Opportunities CU) took Closest to the Pin honors on holes #8 and #15. Each won a $50 Visa gift card for their accuracy. During the post-tournament barbecue, seven putting contest qualifiers competed to win a third $50 Visa gift card. Although nobody sank the final putt, Tom Couture's (VSECU) putt, which stopped within 14 inches of the hole, held up against those of all the other contenders.
Championship honors for the 2022 VCUGC belong to the 1st place Low Gross scoring team from Heritage Family CU. Pictured left to right in the page header image above are Paul Carroccio (TPW Real Estate), Carrie Allen (Heritage Family CU), Mike Bartoo (Marquis), and Matt Levandowski (Heritage Family CU). Each member of both winning teams receives a $50 gift card to the Stowe Country Club Pro Shop and a trophy commemorating their victory.
---
The team which won 1st place Low Net (pictured below left to right) was Charlyn Delano (CUNA Mutual Group), Nate DelGiudice (Insurance Trust), Peter Sullivan (CUNA Mutual Group), and Steve Costa (Federal Home Loan Bank of Boston).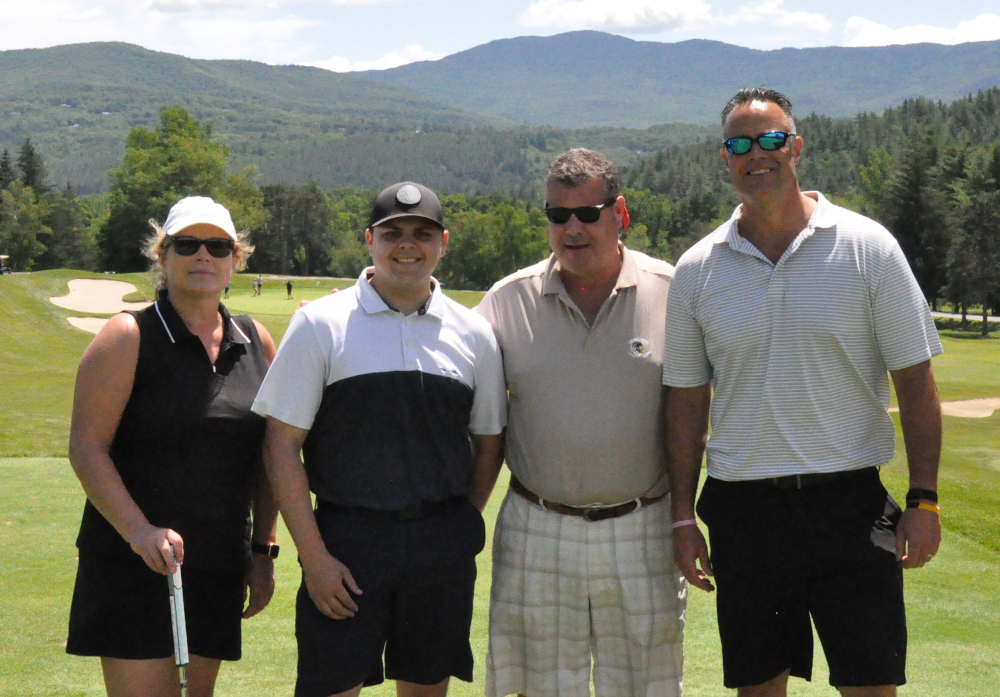 AVCU greatly appreciates and thanks all the tournament sponsors listed below and the individual golfers who participated in our 2022 charity golf tournament. Although we don't yet know the final fundraising numbers, AVCU projects that our donation to Vermont Foodbank of 100% of the after-expense tournament proceeds will exceed $4,000. We also want to recognize and offer our thanks and appreciation to the three board members of the CU Young Professionals of Vermont Nate Messier (One CU), Dan Souza (802 CU), and Amanda Reid (Vermont FCU) and their credit unions for volunteering their workdays for a great cause.
Tournament Sponsors
VSECU (Triple Credit Union Birdie Sponsor) … 12 golfers
802 CU (Double Credit Union Birdie Sponsor) … 8 golfers
New England FCU (Double Credit Union Birdie Sponsor) … 8 golfers
NorthCountry FCU (Double Credit Union Birdie Sponsor) … 8 golfers
Vermont FCU (Credit Union Birdie Sponsor + 2 pairs of golfers) … 8 golfers
Heritage Family CU (Credit Union Birdie Sponsor) … 4 golfers
Opportunities CU (Credit Union Birdie Sponsor) … 4 golfers
Tricorp FCU (Corporate Ace Sponsor) … 4 golfers
Synergent (Corporate Eagle Sponsor) … 2 golfers
CUNA Mutual Group (Corporate Eagle Sponsor) … 2 golfers
---