On 3/20/20, we announced that the 73rd Annual Meeting & Convention of the Association of Vermont Credit Unions has been rescheduled for the weekend of September 18-20, 2020 at  Jay Peak Resort.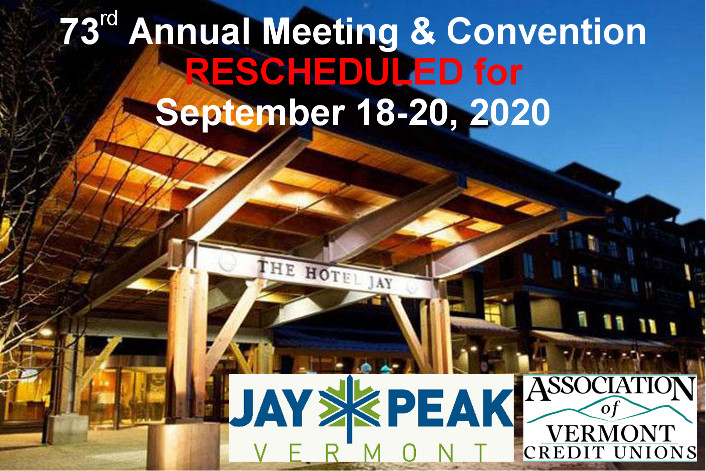 Although the new dates are in the "high summer season" when hotel room rates are higher than in May, AVCU has negotiated and signed a revised Jay Peak contract which maintains all of the provisions of our original, including room rates, for the September dates. Therefore, other than the dates themselves, every other aspect of our 73rd Annual Meeting remains the same as announced on January 31.
Each of our expert speakers has been re-booked, as has Saturday night's Dueling Pianos Show. Friday's Exhibitor Hall and the Scavenger Hunt cash prize contest will go on as planned, and although some minor adjustments to the weekend schedule may be necessary, at this time no major changes are anticipated.  Most importantly, the rates for overnight accommodation for all room types in our Hotel Jay block remain as previously announced.
With regard to room reservations in our Hotel Jay room block, although the Resort has ceased all operations until May 1st, they asked AVCU to provide our members with the following statement: "With the decision to reschedule the AVCU convention to the weekend of September 18-20, 2020, Jay Peak Resort has adjusted all existing call-in reservations for May 15-17 to their matching September dates. If you will attend the convention in September, no further action is needed on your part. If you made a reservation for May and will not attend in September, once we resume operations on May 1st, please call our Central Reservations line at 800-451-4449 to cancel your reservation."
AVCU thanks all our members, exhibitors, and sponsors for understanding that while rescheduling the largest and most important annual gathering of Vermont credit unions is not an ideal situation, we are very fortunate to have worked out a compromise with Jay Peak Resort, our speakers and entertainers, and our exhibitors, so that our 73rd Annual Meeting & Convention goes on.  We look forward to seeing everyone at Jay Peak Resort in September and encourage readers to watch Newslines Express for further updates throughout the spring and summer months.