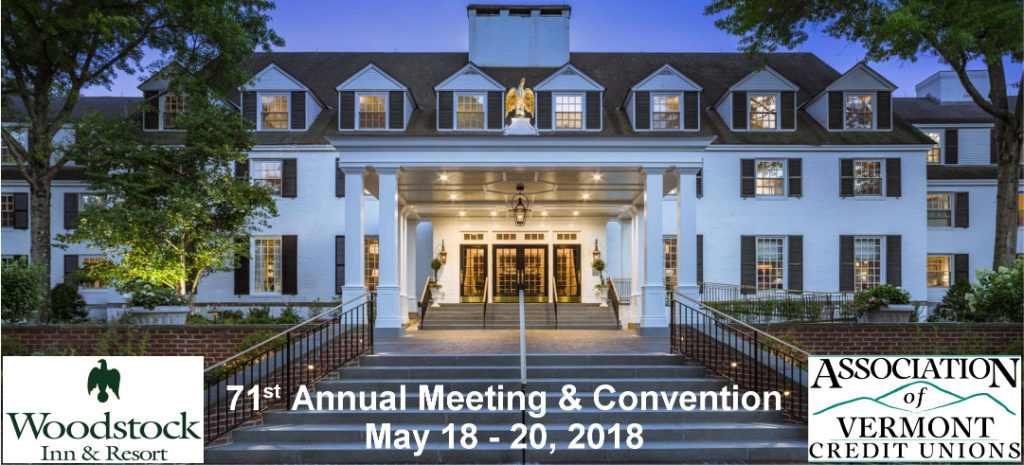 The 71st Annual Meeting & Convention of the Association of Vermont Credit Unions is taking place at the Woodstock Inn & Resort May 18-20, 2018.  We cordially invite all management, staff, and volunteer leaders from our members to join us at the largest annual credit union event in the state of Vermont!  We hope to see you in the beautiful village of Woodstock in May.
Click here to view or download the Exhibitor / Sponsor Information Kit
Attendee registration information, details of our Woodstock Inn room block, and the Official Call notice will be emailed to all Association member credit union CEOs and made available here on Friday, February 2.
2018 Annual Meeting Schedule

Friday, 5/18

8:30 – 9:30 AM … Golf social tee times (Woodstock Country Club)

2:00 – 6:30 PM … Convention Registration open (Tavern Wing Lobby)

3:00 – 4:00 PM … 71st AVCU Business Meeting (Garden Terrace)

4:00 – 6:30 PM … Exhibitor Hall Open / "Credit Union Concentration" Contest (Ballroom)

4:00 – 9:30 PM … Take-a-Chance Auction ticket sales (Garden Parlor)

6:30 – 8:15 PM … Opening Banquet & Speakers (South Garden Pavilion)

8:15 – 9:30 PM … Dessert Social / Vendor door prizes / Live drawings for "Credit Union Concentration" Winners (Ballroom)

Saturday, 5/19

7:30 AM … Breakfast service begins (Ballroom & Foyer)

7:30 AM – 10:00 PM … Take-a-Chance Auction ticket sales (Garden Parlor)

8:00 AM – 10:00 AM … Strategy Breakfast w/ Mark Sievewright (Garden Terrace … This is a limited attendance "By Invitation Only" event)

8:00 AM – 9:00 AM … Breakfast Roundtable General Session #1 w/ Tim Harrington (Ballroom)


9:15 AM – 10:15 AM … Breakfast Roundtable General Session #2 w/ Mark Lynch & CUDE Panel (Ballroom)

10:30 AM – 12:00 PM … Opening Keynote by Mark Sievewright (Ballroom)

12:00 – 1:30 PM … Networking Lunch (Rockefeller Room)

1:30 – 2:15 PM … Breakout Sessions (Ballroom A & C)

2:30 – 5:00 PM … Special Experiential Learning Event – Life Simulation: Experiencing Poverty (South Garden Pavilion)

6:00 – 7:00 PM … Social Reception (Ballroom Foyer / Outdoor Terrace)

7:00 – 10:15 PM … 71st Anniversary Action Station Banquet & Entertainment (Ballroom)

Sunday, 5/20

8:00 AM – 9:30 AM (Ballroom & Foyer)

Breakfast service

Weekend Closing Presentation by Mark Sievewright

Take-a-Chance Auction Live Drawings

Fabulous Parting Gift Live Drawing

Convention closes
Please email questions about the Annual Meeting & Convention to Conference Manager John Cote:  JohnCote(at)VermontCreditUnions.coop