The 73rd Annual Meeting & Convention of the Association of Vermont Credit Unions is taking place at Jay Peak Resort May 15-17, 2020.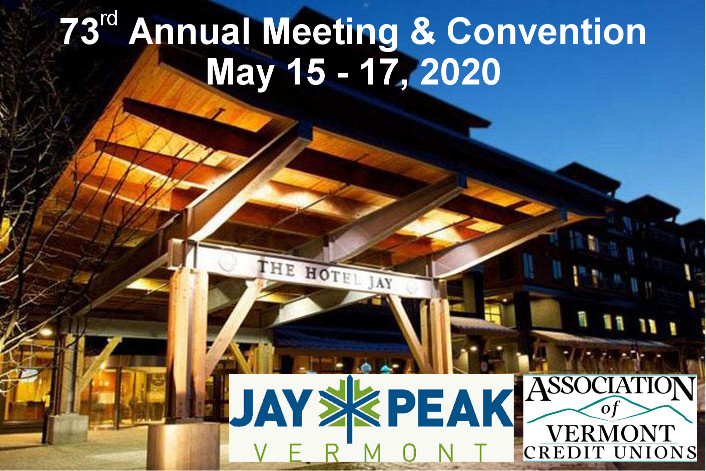 In addition to a wide variety of guest accommodation options in our Hotel Jay room block, the Resort features its renowned championship golf course, Pump House indoor waterpark, Ice Haus skating facility, mountain disc golf, and the Taiga Spa, all of which helped it win the 2019 Seven Daysies Award for Best Resort Adventure Center.
Plans are being developed for a family-friendly weekend, including availability of a Guest Program as AVCU has secured discounted group rates for all resort attractions.  Credit union staff and volunteers will be able to choose from an assortment of Hotel Jay guest rooms including standard king bed, multiple queen bed studios, and one, two, and three bedroom suites capable of accommodating families of all sizes.
"Jay Peak Resort stands apart from the Vermont destinations at which we typically hold our Annual Meeting," said Association President Joe Bergeron in the August announcement in Newslines Express. "We look forward to partnering with a property that not only matches the level of hospitality, cuisine, and comfort to which our attendees are accustomed, but provides expansive facilities and activities that offer something extra for nearly everyone."
The Attendee & Guest Registration kit and Official Call to the Annual Meeting will be emailed to Vermont credit union chief executives on or around January 31, 2020. The Registration kit will also be available on this page at that time, as will the procedure for booking overnight accommodations within AVCU's Hotel Jay room block.
General Session, Keynote, and Breakout Speakers

John McKechnie is a Senior Partner for Total Spectrum, a Washington, D.C.-based team of principals and partner companies with decades of legislative and campaign experience at the state and federal level. He's been with the firm since 2011 and represents a wide variety of credit union and financial services providers on Capitol Hill.

Previously he spent five years in government as a Presidential appointee at the National Credit Union Administration where he served three Chairpersons in the capacity of Director of Public and Congressional Affairs.

McKechnie's career in the credit union industry began in 1987 as the Director of Political Action with CUNA. It culminated in a four-year stint as CUNA's chief federal lobbyist, heading up the national trade association's federal legislative and political advocacy. His Saturday morning keynote entitled "View from D.C. – Washington Turmoil and What it Means for Your Credit Union" will be an interactive, two-way session that no one will want to miss.

---

Mary Kelly, PhD, CSP, CDR US Navy (ret) is an internationally renowned author and keynote speaker on economics, leadership, productivity, and business growth. In 21 years as a Navy intelligence and logistics officer, she trained more than 40,000 military and civilian personnel.

Kelly has spent 25 years on active duty in the Navy, leading multi-national teams throughout Asia. She was an intelligence officer specializing in Asia and Russia, an HR director, a chief of police, and a professor at the Naval Academy.

She'll draw upon her Ph.D. in economics for the topic of her Saturday morning general session entitled "'FutureNomics' for Credit Union Leaders". Her unique background drives her insights into a blend of business growth and leadership topics, as chronicled in the 11 books she's authored on those subjects.

---

Dave DeFazio is a Partner at StrategyCorps, a FinTech company headquartered in Nashville, TN which helps credit unions and banks deliver products that bring value to the lives of their members and customers. He is an active and much sought after presenter at financial institution conferences where he explores innovations in financial technology, retail banking, and other strategies employed by today's best retail financial services marketers.

DeFazio leads and manages StrategyCorps' community financial institution sales team, where he utilizes his hands-on and executive retail banking experience at a billion dollar asset bank to enhance the customer / member service experience at a wide range of financial institutions.

His Saturday morning general session is entitled, "Planet of the Apps – the Evolving Battle for Customers and Cross Selling in a Mobile World."

Information for Vendors Interested in Exhibiting

On Wednesday, January 15th AVCU distributed an Invitation to Exhibit at AVCU's 73rd Annual Meeting & Convention May 15-17, 2020 to our endorsed business partners, prior year exhibitors, and select others, marking the opening of application submissions to be a 2020 convention exhibitor. The invitation contained a link to download the Exhibitor / Sponsor Information Kit as well as a link to the online application hosted at SurveyMonkey. A limited number of exhibitor stations are available, so interested vendors should submit an application as soon as possible.

Purchasing a station in Friday's Exhibitor Hall is required for anyone other than Vermont credit union employees or volunteers to attend our convention. The fee for applications submitted before the early bird date of 3/13/20 is $2,000. The fee for applications submitted between 3/14/20 and 4/3/20 is $2,200. All returning 2019 exhibiting companies receive a $200 loyalty discount which lowers their 2020 fee to $1,800 (early bird) or $2,000.

Failure to submit payment to AVCU by 4/3/20 for the exhibitor station fee (and optional presenting sponsorship fee) will result in cancellation of your application and revocation of all exhibitor and sponsor privileges. Be sure to download and review the entire Exhibitor / Sponsor Information Kit linked above for full details and a list of available sponsorships.

Questions or inquiries about any aspect of the 73rd Annual Meeting & Convention of the Association of Vermont Credit Unions can be addressed to Convention Manager John Cote by email (preferred) to JohnCote(at)vermontcreditunions.coop or by phone at 802-861-7033 (direct).